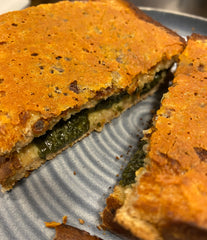 Grilled Cheese Summary
Grilled Cheese is one of my favorite comfort foods.  It reminds me of my childhood.  But lets step it up a notch and make an adult grilled cheese!
Ingredients 
Bread - your preference, multigrain, sliced thick rustic ciabatta or you can use whatever you happen to have in your pantry
Cheese - freshly grated cheese is the best, i used a cheddar and monterey jack mix.  But gruyere is also a really great nutty, flavorful cheese to use.
Butter - I like to use Plugra, it is richer and has a lot more flavor then most generic butter brands such as breakstone or land o lakes.
Spinach Mixture 
Spinach mixture 
Sauté fresh spinach with some chopped garlic and onion.  When cooked down deglaze with a little white wine and then finish with a dash of heavy cream to pull it all together.
Creating The Sandwich
You have to make your spinach mix first.  
Next step is to get a pan on medium heat, first step in cooking is a hot pan.  
Now to put together the sandwich.  place a slice and a half of cheese on both sides of your bread and then place your spinach mixture in between the cheese.
Add a little butter to the pan and place your sandwich in the hot pan.  Cook both sides to a light golden brown.
After you have done the last step, take your sandwich out of the pan and add some of your fresh grated cheese to the pan, let it cook and melt then put your sandwich back in the pan on top of the cheese.
Let the sandwich cook for another 2-3 minutes so that the cheese adheres to the bread.  
Take the sandwich out of the pan, cut in half and enjoy!
What makes this grilled cheese different from all others?
The crunchy cheese on top and the melty cheese in the middle with the spinach mix makes a wonderful pairing of textures and flavors.  It will be one of the best sandwiches you have ever had.