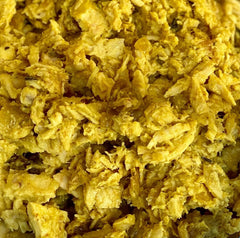 Ingredients 
Apples
Leeks
Red Onions
Shallots
Golden Raisins
Roasted Chicken
Madras Curry Powder
Salt
Black Pepper
Mayonnaise 
Cooking Oil
Recipe Instructions
First step is to cut all of your ingredients.  You have a choice here depending on preference.  You can julienne everything or dice all of the ingredients. 
After you cut the apples, leeks, red onions and shallots, you then sauté them with cooking oil and add your salt, pepper and madras curry.  It is important to cook the curry, because you need to get the grit out. 
After everything is cooked down, you then deglaze the pan with a little chicken stock to get all the fond off the bottom of the pan, then scrape everything using a rubber spatula to a plate and let cool. 
Once cooled add your mixture to some mayonnaise.  Mix well and add your golden raisins. 
Now all you need is your chicken.  My preference is to roast a whole chicken  bone on and then pull the chicken apart after it has cooled.  You can also use boneless chicken breasts.  But the bones do give you more flavor.  
So now that you have your curry mayonnaise made and your chicken is cooked and cooled, lets make the dish.  Take your chicken and your mayonnaise mixture and combine them.  After mixed, taste and add extra salt and pepper if needed. 
Recipe Tips
How to Roast Chicken
Take a whole chicken, rub it with salt, black pepper and cooking oil, then roast on 400 degrees for about 1 hour, then let rest to cool.  After cooled, pull apart.
Cooking Oil
What is the difference?  Canola oil, vegetable oil, soy bean oil are all good cooking oils because they have a high smoke point unlike olive oil.
Serving Instructions
This dish is great over a salad or on some toasted bread.  My personal preference is grilled semolina raisin bread cooked in a pan with a small amount of butter.
Enjoy!!!