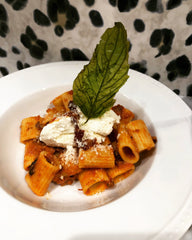 Alla Vodka Summary
Everybody loves penne alla vodka! For an appetizer or an entree, for adults or for kids.  It does not matter.  Let me walk you through an easy but absolute guaranteed crowd pleaser.  I will give you a couple of really great garnishes to spruce up your dish too.
Ingredients 
Tomato Product - canned tomatoes or fresh
onions
Garlic
Basil
Prosciutto
Vodka
Heavy Cream
Parmesan cheese 
Cooking oil
Salt
Pepper
Your Favorite Pasta
Cooking Instructions  
The first step in making a great vodka sauce is to prepare your tomato sauce. 
Add cooking oil to a hot pot and sauté onions and garlic 
Season with salt and pepper
Add some Prosciutto and sauté
Then add your tomato product
Let cook until all tomatoes are soft and falling apart, 1-2 hours 
Add your basil towards the end so that the basil does not turn brown
Now that your sauce is ready to go, lets start the second step
Get another larger pot and sauté some garlic on medium heat, season with salt and pepper
Deglaze with vodka, be careful it will flame up! you need to cook the alcohol out, so when it stops flaming you can add your cream
Let the cream cook on medium heat, it will bubble up. you need it to dissipate by half, so it gets nice and thick
Add some basil and parmesan cheese and let the sauce cook down for another couple of minutes
once you have a silky consistency add 1 ladle of tomato sauce at a time and mix till you have that orangey pinkish color you are looking for
Mix with pasta and serve it up hot!
Garnish Ideas
Crispy Prosciutto - Chop and render out the fat in a low heat pan, drain the fat and sprinkle over your pasta for a crispy crunchy salty texture to add to your dish
Fried Basil - This adds hight and color to the plate. Get some oil hot in a pan and just place the basil leaves in one at a time.  Be careful because it does pop from the moisture in the basil, flip once then place on paper towel to get excess oil off
Fresh Ricotta - This you can find at any Italian specialty store, it adds a creamy texture to the dish, if you can not find it you can get a generic brand like Polly-o and place it in a cheese cloth or strainer over a bowl and let the excess moisture drip out
Freshly Grated Cheese - Can not go wrong with some extra cheese on top, and freshly grated makes it that much better
Tricks and Tips
When you are making your tomato sauce canned tomatoes or fresh are best.  When you are using canned, crushed or whole both work fine.  Sclafani is my favorite brand to use.  But if the season is right, fresh tomatoes make a much better product.
When you add your vodka, if you have a gas stove it will flame up pretty quickly, so be prepared and you can move the pot off the heat and shake it so that it does not burn the garlic.  If you have an electric stove you are going to have to use a BBQ lighter to make it flame.  I would not recommend using a small lighter, because it flames up quickly and safety in the kitchen is top priority. 
Parmesan Cheese - I prefer to use Locatelli Romano and i like to grate it myself.  You can use any sort of salty grated cheese, this is just my preference.