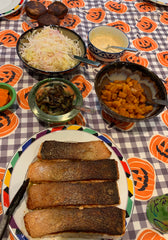 An easy dinner that looks great and tastes even better.  This meal included crispy skin salmon, crab cakes, roasted farm fresh butternut squash, sautéed escarole, kohlrabi and apple slaw and dipping sauce.  Ill give you a step by step on how to make each dish. Lets start with the farm fresh vegetables.
Butternut Squash - Take the skin off the butternut squash, cut in half and then scoop out the seeds.  Cut the squash into medium dice, toss in oil, salt, pepper, cinnamon and cumin.  Place on a sheet tray and bake at 400 degrees Fahrenheit for about 25 minutes until tender and you have a nice golden color.
Escarole - Cut the bottom core off and clean and soak the escarole leaves very thoroughly.  Once you make sure there is no more sand or dirt on the leaves dry them off.  Once dry, stack the leaves on top of each other to make one inch high piles, then chop the greens.  In a pan, add a little bit of cooking oil and saute one julienned onion.  After the onion is three quarters cooked add your escarole.  Move around in the pan and cook down till all moisture is cooked out.  Once you are at this point add some apricot jelly, (I prefer the brand Saucy Susan) Worcester sauce,(I prefer the brand Lea and Perrins)  apple cider vinegar, and then finish it with some salt and pepper.  Let everything cook down so the flavors can meld together, then you will be ready to serve.
Kohlrabi - Julienne one white Kohlrabi, 2 apples and one deseeded cucumber.  After they are all julienned, toss them together with rice wine vinegar, salt, pepper, cold water, sugar, scallions (both the white and green part) chopped cilantro and some julienned red onion.  Let the ingredients sit in the fridge for a little while so the flavors can marinate. And then you are set to serve.
Salmon - Get an oven safe pan and get it hot on the stove top.  Take your salmon out, wipe both sides off with a dry paper towel. Season both sides with salt and pepper then add cooking oil to the hot pan and place the salmon skin side down into the pan.  Put one piece in at a time and make sure to move the salmon around a little bit when you first put it down so that the skin doesn't stick, repeat this until all pieces are in the pan.  Cook skin side down for a couple minutes, then place into the oven at 400 degrees for about 8-12 minutes(depending on thickness of the salmon filets).  When you pull the pot out of the oven, make sure you use a hot pot holder and when you place the pan on the oven leave it on top of the handle so that you or someone else doesn't grab the hot handle by accident.  Now flip the salmon filets over and then deglaze the pan with lemon thyme and butter.  Do not baste the skin with the lemon butter pan sauce, you don't want it to get soggy.  The skin will be crispy like a potato chip.  Enjoy the crunch!
Crab cake - Lump crab meat and jumbo lump crab meat.  Use one can of each and make sure that you don't over mix the meat and pulverize it.  You want big chunks when you bite into your cake.  Saute onions, garlic, red, yellow and green peppers with a couple strips of bacon and use the fat to cook the ingredients.  After all the moisture is cooked out of all the vegetables place them on a plate and cool them off in the refrigerator.  Now whisk together, 2 eggs, dijon mustard, whole grain mustard, mayo, salt, pepper, thyme, parsley, sriracha and old bay.  Last step is to take some saltines and brush them with clarified butter and bake for a couple minutes till they get golden brown at 350 degrees, once cooked cool then put into cuisinart and pulse until they are ground into fine crumbs.  Now that all your mise en place is ready, mix everything together and fold it all together very gently.  Once mixed, make even sized uniformed patties and dip into the extra bread crumbs and then fry in a pan to get both sides golden brown.