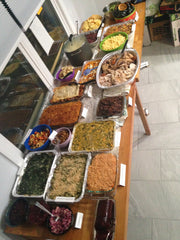 we are coming up to the holiday season.  And I was letting people know I am available to cater your special gatherings or give cooking lessons for a holiday gift to someone special. 
There is no better gift to give, then kitchen knowledge or a fabulous home cooked meal that you can enjoy in the comfort of your own home.
Here is a menu for thanksgiving.  We can cater it for you or teach you how to make these unbelievable dishes.  Let us help you have a wonderful holiday.  Contact us and lets coordinate a meal you and your family will remember forever.
Sides
Smoked Beer can Braised Red Cabbage
Orange Cranberry Relish with Grand Marnier
Savory Apple Strudel
Homemade Baked Mac and Cheese
Roasted Jalapeno Cornbread
Best Biscuits You Ever Had
Sour Dough and Apple Stuffing
Butternut Squash and White Beans
Creamed Kale and Spinach
String Bean Casserole with Fried Onions
Frosted Flake Crusted Noodle Pudding
Roasted Sweet Potato Puree with Toasted Coconut
Parsnip Mashed Potatoes
Roasted Garlic Whipped Potatoes
Cauliflower Puree
Roasted Broccoli
Meats
Braised Short Rib
Apricot glazed Roast Turkey

Stuffed Pork Loin

Roasted Citrus Herb Chicken