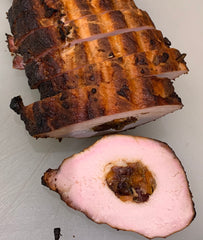 Stuffed Pork Loin Summary
Looking for a tasty meal to serve at a party?  You can make this a day ahead of time and reheat very easily.  Or you can prepare and stuff the pork loin, then cook the day of and serve to your guests.
Ingredients 
Pork Loin (Not tenderloin)
Dried Apricots
Dried Cranberries
Carrots
Onions
Celery
Dijon Mustard
Bread Crumbs
Salt
Pepper
Cooking Oil
Apricot Jam
Cooking Instructions and Preparation 
Dice your carrots, onions, celery and dried apricots
Add cooking oil to a hot pan and sauté all ingredients.  Season with salt and pepper
After all ingredients are fork tender, turn off the heat and add the dried cranberries, apricot jam, dijon mustard and bread crumbs, season for taste
Place this mixture on the side to cool
Prepping the Pork loin is the hardest step for this dish.  I recommend you use a long thin filet knife to make the cut through then use a honer (Knife Steel) to make sure the hole goes all the way through. 
After you have a hole through your pork loin, season the meat with salt and pepper
Stuff the mixture after it is cooled into the crevice.  Make sure the the whole pork loin is stuffed evenly
Now you have two choices.  You can sear the meat in a large sauté pan, then place in the oven in a roasting pan and cook on 375 degrees for about 35-45 minutes, with mirepoix underneath and around the loin.  Or you can grill or smoke the meat outdoors.  This takes a little longer,  but adds a lot more flavor.
After the meat is cooked, let rest and then slice and serve
Side Dishes to Accompany the Pork Loin
Roasted sweet potatoes with cinnamon and cumin and grilled Asparagus 
Peel and medium dice sweet potatoes.  Add a little cumin, cinnamon and salt.  Toss with some cooking oil and place in a preheated 400 degree oven for about 20-25 minutes.  Serve next to your stuffed pork loin and enjoy!
Grilled asparagus is a quick, healthy side to make.  Cut the bottoms off on a bias, season with oil, salt, pepper and lemon zest.  Grill or place in a 400 degree oven for about 7-10 minutes depending on thickness of asparagus. 
Place some roasted sweet potatoes on a plat with your sliced stuffed pork loin.  Then place the asparagus on top to give the plate some hight. 
Remember, you eat with your eyes before you put food in your mouth.  Presentation is half the battle.