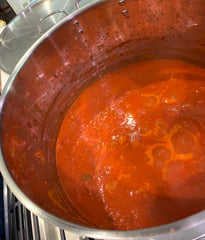 Simple  Tomato sauce
2 cans tomato product that your family prefers. Sclafani is the brand that I prefer to use. One onion, 2-3 cloves of garlic, olive oil, basil, salt and pepper. I like to add about 2 teaspoons of quality honey too to make the sauce a little less acidic.
First dice the onions and chop the garlic. You need to do all your cutting and chopping prior to heating up your pan, so that you are not rushed once the ingredients start to cook. 
After your ingredients are prepped out, open the cans of tomato with a can opener and make sure to wipe the tops off with a wet paper towel so that you get any residue or dust that might be on the top of the can. You don't want that getting into your sauce or your body for that matter. Now that you are ready to cook, turn your pot on to medium heat and add the oil.(if you don't have olive oil, canola oil, vegetable oil or soybean oil are all totally fine to use too, they actually have a higher smoke point then olive oil, so you don't have to worry about burning your onions and garlic as much, but I feel olive oil adds a better flavor and more depth to your sauce). Now that the oil is heated and you can move it around the pot easily, add your onions first and cook till translucent, season with a five finger pinch of salt and a three finger pinch of pepper. Move the onions around to make sure that they all get coated in oil and that you are not just cooking one side of the onion. Use a wooden spoon or a rubber heat resistant spatula. These are the best tools for making a sauce. Now that the onions are cooked and starting to cook out the moisture add your garlic and stir. Cook until there is a little bit of color and then add your tomatoes, once you add the tomato product, turn the heat down to low. Now stir again and season with another five finger pinch of salt and three finger pinch of black pepper. Let the sauce reduce and cover partially so that the tomatoes don't splatter all over your oven and counters. Let cook for about an hour and stir occasionally to make sure it is not sticking to the bottom and burning.  Now that the sauce has been reducing, you will see that it is getting thicker, add your spoon of honey and stir to make sure it doesn't sink to the bottom of the pot. Now partially cover again and let cook for another thirty to forty minutes. You can chiffanade, or chop your basil and cook for about five to ten more minutes, before you take the sauce off the stove top. This will make sure that the basil doesn't turn brown and you will get more essence of the fresh herbage. Now there are two ways you can serve your sauce. You can blend it with a hand mixer, so that it gets pureed (generally the preference for little kids, I know my two youngsters don't like to see chunks or green stuff in their sauce, or you can eat it as is and it will be more chunky or rustic. One thing I have learned from experience is that the sauce will have a little different taste if you buzz it. It blends the flavors together more and will taste different if you leave it chunky opposed to pureeing it.